Browser helps bring the UniWrk jobs platform to market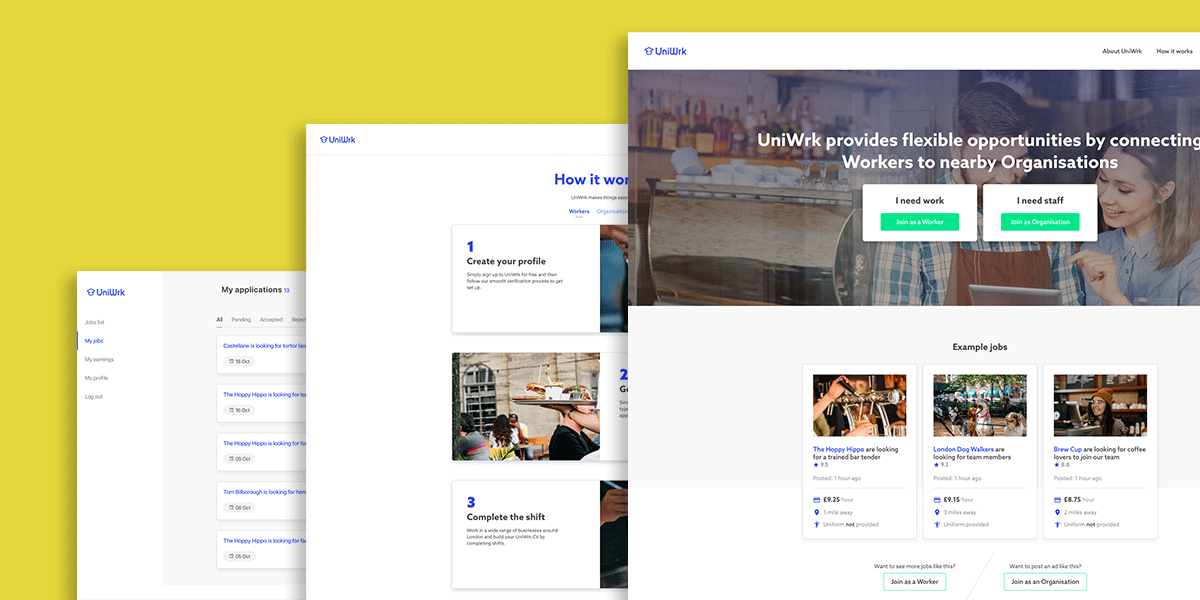 UniWrk is a new digital platform, poised to disrupt the world of casual work contracts. Built by Browser after an extensive discovery and research process, the service seeks to shorten the distance between workers looking for part-time work, and organizations with short-term staffing needs.
UniWrk founder and owner Tom Bilborough developed the idea for the platform after observing how the old-fashioned employment status quo didn't work for his friends at university, or for the venues in the area looking for part-time workers. 

His friends needed flexible, short-term work, that would fit around their ever-changing study, class and holiday timetable, but they were agnostic about specifically which bar, pub or cafe it was they worked in.
Bars and venues, on the other hand, liked to tie down workers to their specific venue, because hiring carried high onboarding and payroll overheads, and organisations needed certainty that they had a talent pool to cover busy peak periods. However, in non-peak periods, workers couldn't be sure of getting shifts, often finding out with short notice that they had no work – and thus no income – that weekend.
Armed with an idea to make life better for workers and organizations, Tom approached Browser for technical, developmental and strategic help to turn the idea into a working platform. The result is UniWrk, a platform that streamlines the world of casual work for both organizations and part-time workers by matching available workers with available roles on a shift-by-shift basis and removing the onboarding and payroll overheads for organizations by acting as a payment processor.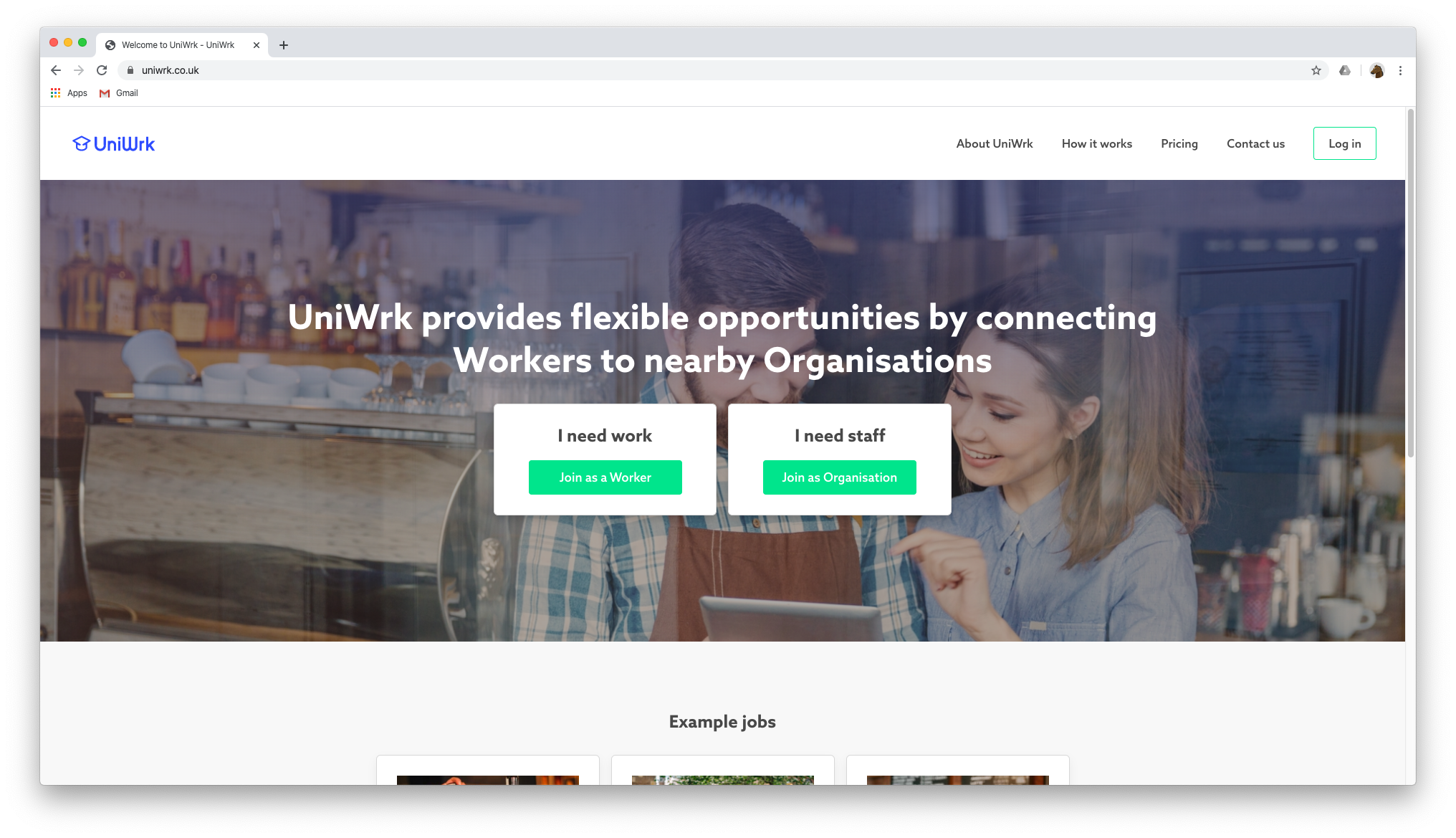 As a privately funded startup, Tom was keen to keep the initial build of UniWrk lean, so that he could get it to market rapidly and start to generate interest, income and data. This is something the Browser team has helped numerous new companies do, so we leapt into action, working quickly to gather research and user stories, before developing a tight MVP brief through the MoSCoW prioritisation process.
The most involved part of the build was a complex payment integration which needed to mediate payments between the two types of platform users – workers and organizations. On top of this, the platform needed to satisfy various regulatory standards around worker identification to guard against fraud.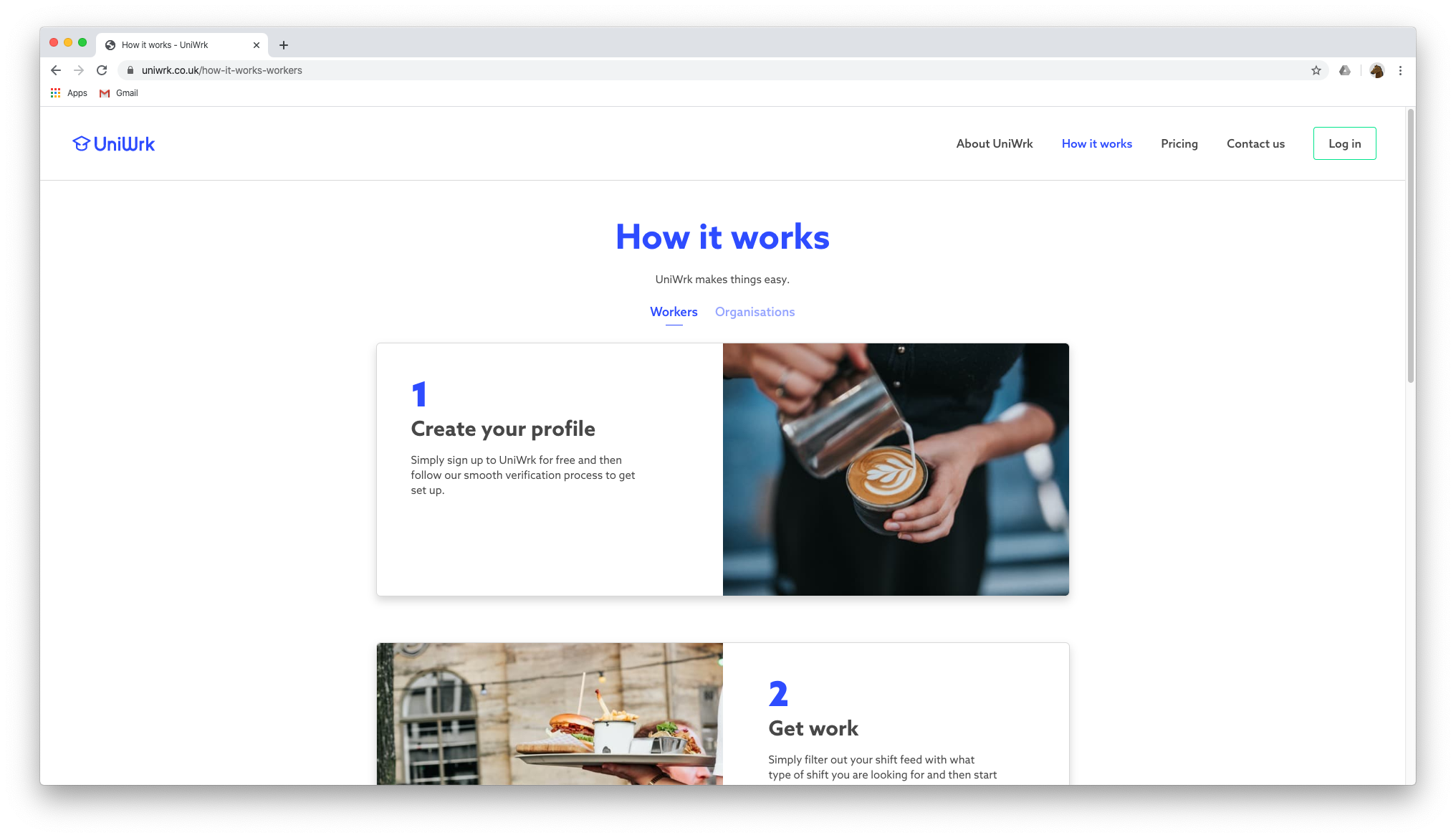 After assessing the payment platforms on the market, we settled on partnering with Stripe for these elements, as it struck the right balance between security and UX design.
The result? We helped successfully take UniWrk from an idea to a fully functioning digital product in a little under six months. The platform is now live and matching workers with organizations in the Clapham area of London, with plans to roll out citywide soon.
Says Tom of the process:
"Browser's help defining the scope, strategic direction and technical structure of UniWrk was invaluable. As a one-man startup, I had a lot on my plate, so being able to draw on the Browser team's digital expertise allowed me to focus on other important parts of the business."
We look forward to watching how the platform evolves and helping Tom continue his mission to make life better for part-time workers in London and beyond.