NHS HR Software: Knowing Your Users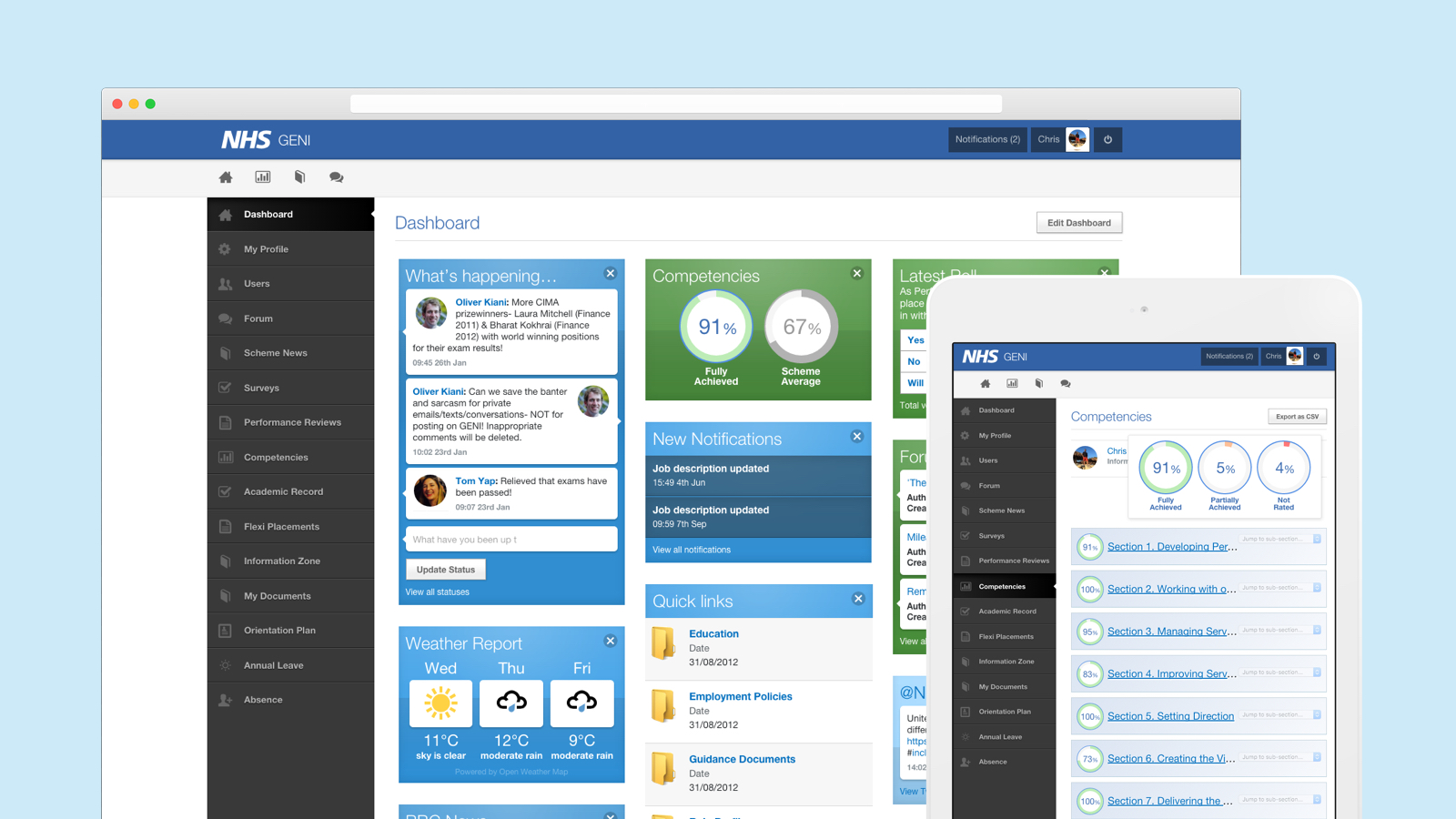 Do you know what your employees really want? Well, the NHS has been trying to find out. Using our Geni software, the organisation has been learning more about their employees and what they needed to improve their day-to-day productivity.
Without further ado, the results…
Employees want to speak to their colleagues
One of the most valuable things for employees was the ability to speak to their peers and colleagues via our Geni software.
On many talent blogs and magazines you will hear this being talked of as 'social', and even being compared to social media. However, for the users that we spoke to, Geni had quite a different role from traditional social media like Twitter and Facebook. It is a place where they can ask questions and get advice about workplace issues and events rather than any sort of socialising. Other employees and managers could give them advice.
This isn't to say that it isn't entirely social, just in a more formal setting. It's not a bad thing either: interviewees consistently identified the forum as one of the best features of Geni and it receives some of the most traffic in the whole of the application. It served their needs of getting clarification on questions and problems concerning their work.
Worth note is that employees do have a place for more casual conversations: Facebook. A forum where your bosses can't see what your plans are for the weekend.
Employees want easy access to documents
Document sharing is not a new idea, but its importance to users hasn't faded over time. The document store is one of the most regularly used features on Geni.
There's nothing sexy about this feature, but far too many systems are still getting this wrong. It comes down to having a really intuitive design that makes it quicker and easier to find exactly what they are looking for.
They want to use it on a mobile device
There's a lot of talk about mobile these days; Josh Bersin recently wrote in Forbes: "Mobile is the platform, not a platform". From what the users of Geni have told us, all this talk is for good reason.
We spoke to a trainee who used Geni on her tablet every day on the train to and from work. On it, she could check the forum, review her performance reviews and access documents any documents that she needed to catch up on.
As mobiles and tablets increase in adoption and people become more flexible with where they can work, having an HR system that can accommodate this way of working beginning to become a necessity. From what we heard from some of the Geni users, systems that work on mobiles and tablets are just as popular with users as everyone is making out.
Employees value a system that is easy to use
By far, the biggest concern of the users that we spoke to was having a system that was easy to use. More than anything, employees want to get their job done quickly and easily.
Of course, the whole purpose of an HR system is to improve how employees work – not hinder them. You can add all of the features to your HR system that you like, but if they are a chore to use and locate, there's a high chance they won't get used.
The first thing to get right in your HR system is to make sure that it makes your employees' jobs easier, not more difficult. It sounds obvious, but systems turn out this way all too often. Easy to use, well thought out design is essential.
'Design is one of the most important disciplines in enterprise software now' writes Josh Bersin.
According to our research, he's absolutely right.
An overarching theme
There's a running theme in the above points. Usability is central to almost everything discussed.
Before users talked about special features or started thinking about whether the system was social or mobile, their main priority was having a system where they could access the information that they wanted without hassle.