We're Featured in Web Designer Mag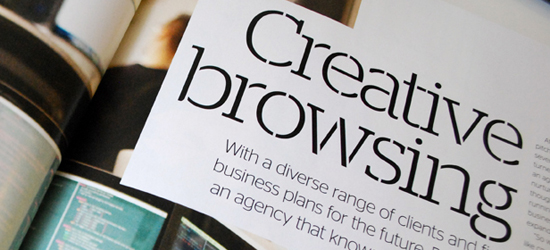 April is the month of temperamental weather, St George and Browser London.
Yep that's right, Browser London are a solid feature of this April – well at least in Web Designer Magazine.  We've been featured over a seven page spread in Web Designer Mag's April edition: the article is a behind the scenes look into Browser and covers our history,  clients,  technologies and what makes us tick.
From the article:
"It's important to have a really hands-on session with the client to ensure they fully understand what can be delivered within the time and budget they have available. Often when we have done this exercise the brief may have changed radically, but what we then have is a plan that fulfills the client's brief, and one that we can deliver on time, and importantly, on budget" René (Creative Director)
"I think one of the most important things that we are doing at the moment is making projects device and resolution agnostic, and I think the tools we now use are gradually changing to meet those demands. We use Sass/Compass a lot now instead of writing vanilla CSS for example. BDD tools such as Behat are also essential for QA in our agile workflow, where the project is evolving at a rapid rate." Matt (Lead Developer)
"We have also been using off-canvas responsive navigation, and we are seeing what has been tied to mobile applications also now coming to the web. There will always be native applications on all the major mobile platforms, but as we move forward there will be more convergence between web and mobile platforms" James (UI/UX Developer)
Thanks to the nice guys at Web Design magazine for taking the time to feature us. If you'd like to read more you can pick up a copy in most big newsagents. We've also got a few copies in our offices, so if you're in the area don't be afraid to come in and ask for a look!