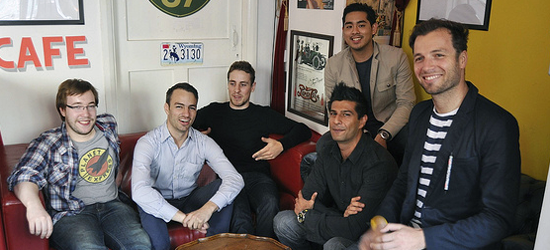 2012 has been a big year for Browser. We've worked hard, played hard and produced some great results for our clients. At the heart of these successes has been the tremendous effort that the team have put into each project, be it large-scale, big-name clients or small-scale projects such as our New Year Card. What's been consistent has been the commitment and enthusiasm throughout.
Here we'll take a whistle-stop tour of what we've been up to in the past year and take a look at what we're going to be doing in 2013, be it projects, processes or play.
Projects
The past year has seen us working on challenging projects with exciting brands and businesses.
One of the highlights was our work with Passenger Focus. We produced an award-winning website for them and increased user engagement by 50%. As part of the build, we enhanced our CMS: 'Jellybean' which has since been used on a number of projects with great success. We're very happy.
We've also recently begun to develop a new site and digital strategy for Workshop Coffee, a local independent coffee company with three outlets at present. They not only serve up hot coffee but also sell their own roasts too; they're a young business open to new ideas, so we have a feeling that we're going to get on well together. We're excited about bringing their strong brand to life over digital channels and producing a website that looks and functions brilliantly.
Of course, we've been working on plenty of other projects this year, including the NHS, Classic Tours and Made Festival just to name a few.
Processes
Our front-end team have continued to push what can be done with responsive design this past year, striving to create sites that look and function brilliantly regardless of what device they are being viewed on, something that is proving increasingly important as more and more users access the web through mobile devices.
We've also continued to hone our use of the agile methodology to guide how we work, in order to make our end results even better. Keeping the end user at the forefront of our minds throughout the process ensures that we can develop a strategy that will satisfy both the end user and the client.
Play
We've had our fair share of fun this year, be it Friday night beers, the inter-agency go-kart Grand Prix or our 'Third Thursday' talks. The 'Third Thursday' talks have provided a relaxed environment to learn from our friends and colleagues. Taking place in our offices The Green Room they see a member of our team or local industry expert stand up and talk about a topic of their choice. It's a great platform for discussion, so if you want to come along to talk or just listen, don't be afraid to get in touch at [email protected].
2013
So what's to come in 2013 then? Well, we've got a case study of the full process of our Workshop Coffee project on the way and we'll be working for some big-name clients. On top of this, we'll continue to refine our processes and build tailor-made sites and digital strategies. Find out more in our New Year's Card.
In short, we will continually strive to be better at what we do, and pass off what we learn to our clients. Have a great Christmas break.