Building the BBC World Cup application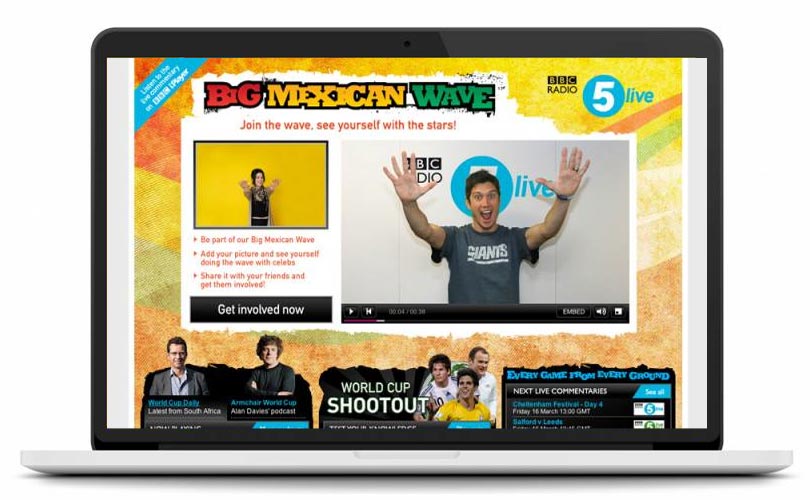 What do you do when you're looking to attract a younger audience to BBC Radio 5 Live's coverage of the World Cup? Well, you build a web application that allows listeners to do the Mexican wave with some of the biggest celebrities in the business!

We helped Radio 5 live launch a digital campaign to engage football fans whilst allowing them to get involved with the site content. We provided a responsively designed,  mobile, tablet and big-screen friendly website solution with a bespoke video application to seamlessly integrate iPlayer videos into the site.
'BBC's Big Mexican Wave' brought together existing video and user-generated content to create an international Mexican wave – football fans around the globe uploaded clips of themselves doing the wave to show their support. Fan's uploads were stitched together with celebrity photos to make one seamless World Cup Wave.
The 'Big Mexican Wave' was born, with involvement from some big BBC names thrown into the mix, including Radio 1's Fearne Cotton and Radio 2's Jonathan Ross. Participation from the likes of Dizzee Rascal and Richard Hammond among others and poses from footballing legends Peter Shilton and Terry butcher meant a positively star-studded campaign.
As well as the full-campaign video, users who got involved also received an automatically generated snippet of themselves waving with some choice celebs. We provided social options so fans could share their unique wave with their friends.